AAMISH
Aamish is a talented DJ and producer whose music thrives on lush ethereal design in his music. With his distinctive style of Progressive House & Techno, he has honed an introspective sense of music. Aamish, India's first specially abled DJ, He is a well-known producer, having put out music on labels like Spring Tube, Duenia Records, and Inner Symphony (Steyoyoke Recordings), to mention a few. Wild openings at the Timeout72 Music Festival and BUDXMUMBAI for his music decks are the proof of his musical brilliance. After an accident left him confined to the wheelchair, Aamish began DJing and has since transformed into one of the most popular DJs in the global perspective. His appeal extends beyond his musical repertoire to include his status as a TEDx Speaker, Limca Book Record holder, recipient of the Bharat Prerna Award, the Epic Award, and a long list of other honours.
AJAY ATUL
Ajay-Atul, a renowned Indian music composer duo comprising of the brothers Ajay Ashok Gogavale and Atul Ashok Gogavale, are known for their work in the Bollywood film industry. They started their career with the non-film album "Vishwavinayaka", a big break for them, creating a niche in the musical arena with their exceptional music compositions and tracks.
They gained wider recognition with the film "Jogwa" in 2009, for which they won the National Film Award for Best Music Direction. Since then, the duo has worked on many commercial jingles, ballets, and advertisements. They have also composed music for Bollywood Movies like Tanhaji, Panipat, Super 30, Zero, PK, Agneepath, Singham, Sairat, and Ved. They were awarded 'Composer of the Decade' at the Mirchi Music Awards 2021 for Agneepath and Sairat.
Ajay-Atul's fusion of folk forms with western instrumentation and pulsating rhythms breathe new life into traditional music styles. Their soundtrack, "Tharki Chokro" from PK, released in 2014, stood out for its bawdy mix of lyrics and Rajasthani folk elements. Their superhit song 'Zingaat' from the movie Sairat was the 1st Marathi song to be recognised worldwide. They were the first Indian music directors to record their music at Sony scoring studios in Hollywood for the same. They are also the first Indian music director duo to be invited to perform at the prestigious Royal Albert Hall in London. Apart from composing & Playback singing, the distinctive duo has done many staged live performances globally. They are like a rare combination, complimenting each other perfectly, leaving their spectators speechless.
CONNECT WITH AJAY ATUL
AMIT TRIVEDI
Amit Trivedi is an acclaimed Indian music composer, and singer, known for his diverse and innovative work in the Bollywood film industry. Trivedi started his musical journey by playing the keyboard and guitar in local bands while studying for a degree in commerce.
He gained wider recognition after composing the music for the acclaimed film "Aamir" in 2008. However, his breakthrough soundtrack for the 2009 film "Dev.D" brought him widespread critical and commercial success. The album was praised for its unique blend of traditional Indian and contemporary Western music and Trivedi's experimentation with genres and sounds.
Since then, Trivedi has composed music for a variety of Bollywood films, including "Udta Punjab," "Highway," "Queen," "Lootera," "Dear Zindagi," "Manmarziyaan," and "Qala," among others. He has won several awards for his music, including the National Film Award, Filmfare Awards, and the Mirchi Music Awards.
In addition to his film work, Trivedi has also produced music for television shows, commercials, and albums. He has collaborated with various artists and musicians from different genres, including Coke Studio, a popular music program in India. Amit Trivedi runs his record label, AT Azaad, under which he has released major hits like Lagan Lagi Re, Moti Virana, and Madhubala.
Trivedi is highly regarded for his experimental and unique approach to music and ability to infuse different musical styles and genres to create a distinct sound. His contributions have been significant in redefining the contemporary Indian music scene, and he continues to be a major force in the industry.
CONNECT WITH AMIT
AMITABH BHATTACHARYA
Amitabh Bhattacharya is a renowned Indian lyricist known for his work in the Bollywood film industry.
Bhattacharya started his career as a software engineer, but he soon realised his passion for writing and started pursuing a career in music. He moved to Bombay and eventually became a lyricist with Amit Trivedi. He debuted as a lyricist in 2008 with the film "Aamir." Since then, he has written lyrics for numerous Bollywood films, including "Dev.D," "Udaan," "Barfi!," "Ae Dil Hai Mushkil," "Yeh Jawaani Hai Deewani," "Dangal," and "Agneepath," among others.
Bhattacharya's lyrics are known for their poetic and soulful nature and his ability to convey emotions through his words. He has worked with some of the leading music composers in the industry, including Amit Trivedi, Pritam, and Vishal-Shekhar.
He has won several awards for his lyrics, including the National Film Award, Filmfare Awards, and the Mirchi Music Awards. He has also lent his voice to some of his compositions like "Iktara" from "Wake Up Sid," "Monta Re" from "Lootera", "Offo" from "2 States", "Kesariya" from "Brahmastra", and "Ghode Pe Sawaar" from "Qala".
Apart from writing film lyrics, Bhattacharya has also written for various TV shows and stage productions. He has collaborated with various artists and musicians from different genres and is a major force in the Indian music industry. His contributions to the industry have been significant, and he is regarded as one of the most talented lyricists in Bollywood.
CONNECT WITH AMITABH
ANUSHA MANI
Singer and lyricist, popularly known as 'The Voice of Gulaabo', Anusha Mani started singing early. She began training in Indian classical music. She also learned Western music and took formal training in Carnatic music.
Anusha made her Bollywood debut as a playback singer with the song "Dhoka" from the film "Johnny Gaddaar" in 2007. She has since lent her voice to many hit songs in Bollywood, including "Gulaabo" from the film "Shaandaar", "Lehrein" from "Aisha", "Sajde" from "Kill Dil", "Shubhaarambh" from "Kai Po Che", and "Thumkeshwari" from "Bhediya".
Anusha has won several awards for her singing, including the Filmfare Award for Best Female Playback Singer (Critics) for the song "Lehrein" from the film "Aisha" in 2011. She has also been nominated for the same award for her songs "Sajde" and "Shubhaarambh".She has had a diverse career working with some renowned music directors, such as Shankar Ehsaan Loy and Amit Trivedi.
Apart from singing for films, Anusha has also lent her voice to several ad jingles and has performed live in various concerts and events. Anusha was a part of the TV show MTV Angels of Rock along with singers Shalmali, Jasmine Sandlas, and Akasa, where she set out on an epic road trip in India. Their participation shed light on various issues faced by women and celebrated womanhood. She has also been a mentor on the reality show 'Love Me India' (&TV) and appeared in "The Love Laugh Live" show Season 2 on various channels of Times Television Network. Anusha and her husband, Sangeet Haldipur, have been winning hearts on the internet with their recent collaboration, "Carmonies", a series of cover songs.
Anusha is known for her versatile voice and ability to sing in various genres, including classical, pop, and rock. She continues to be a sought-after singer in the Indian music industry and is admired by fans for her talent and passion for music.
CONNECT WITH ANUSHA
ARIJIT SINGH
Arijit Singh, the voice transcending boundaries and connecting souls, is a living legend in the Indian music industry. His voice is like a symphony that echoes through the hearts of millions, leaving them spellbound with his soul-stirring melodies.
From a small town in West Bengal to the global stage, Arijit has come a long way. His journey to stardom began with a humble reality show, "Fame Gurukul", in 2005, but his unwavering passion and raw talent paved the way for his meteoric rise to fame.
With his versatile voice and masterful command over melody, Singh has been hailed as the king of romantic ballads. His soulful renditions of songs like "Tum Hi Ho," "Channa Mereya," and "Ae Dil Hai Mushkil" have been chart-toppers and have earned him countless awards and accolades. He has lent his voice to countless Bollywood hits, including "Rait "Zara Si" from "Atrangi Re", "Apna Bana Le" from "Bhediya", and "Kesariya" from Brahmastra, to name a few. His songs have become anthems for generations, striking a chord with people of all ages. Apart from his Bollywood achievements, he founded the record label Oriyon Music in 2020 to provide a platform for curated songs featuring emerging talents and his non-film music like Rihaa and Yaadein Wohi. The soundtrack for the film "Pagglait" was also composed by Arijit under the Label's banner.
Beyond his music, Singh is known for his humility and graciousness. Launching his Foundation — Tatwamasi, in 2022, he announced his mission to empower underprivileged youth and help children and communities realise their true potential by providing a platform encompassing education, healthcare, sports and environmental initiatives.
A humble and down-to-earth individual, Singh's dedication to his craft and passion for music have made him one of the most sought-after singers in the Indian music industry. His contributions to the world of music have been nothing short of extraordinary, and his legacy as a singer, songwriter, and musician will undoubtedly live on for generations to come.
CONNECT WITH ARIJIT
ASEES KAUR
Asees Kaur - the queen of chart-topping hits and soaring vocals! She has surprised the music industry with a commanding stage presence and voice. Boasting a massive fan base globally, this rising star has solidified her position as the third most streamed female artist. This remarkable achievement is a testament to her incredible talent and hard work.
Asees' music is an electrifying blend of soulful melodies and catchy beats, drawing inspiration from various genres, including pop, R&B, and Indian classical music. Her impressive discography includes some of the biggest hits of recent times, such as "Bolna" from the movie "Kapoor & Sons", "Ve Maahi" from the film "Kesari", "Chogada" from "Love Yatri", "Makhna" from the movie "Drive", and "Raataan Lambiyan" from movie "Shershaah", leading her to work with India's top record labels like T-Series, Sony, Times Music, and Universal Music Group. Her music won numerous awards and accolades, including the Mirchi Music Awards for Female Vocalist of The Year for the song "Bolna" in 2016 and IIFA for "Raataan Lambiyan" in 2022. Asees has also won 2 Filmfare awards from "Hui Malang" in 2021 and "Raataan Lambiyan" in 2022. Apart from singing for films, Asees has also released several independent singles, including "Mashooka" and "Kesariyo Rang" and the Bebaakee web-series song "Galliyaan".
Asees' live performances are a sight to behold, with her energy and charisma lighting up the stage. Her talent has earned her coveted spots at some of the biggest events in the music world, including the Dubai Expo 2020 and the Bollywood Music Project. She has also been featured twice on the Times Square billboard in New York City, a testament to her international appeal.
With her unstoppable drive and passion for music, Asees Kaur is a force to be reckoned with. Her music reflects her unique perspective on life and love; her fans can't get enough of her infectious energy and talent. As she continues to dominate the charts and captivate audiences worldwide, it's clear that Asees Kaur is destined for greatness.
CONNECT WITH ASEES
BADAL
Badal, also known as Safidon ka Chhora, is an Indian singer, songwriter, and music composer who primarily works in the Rap and Hip-Hop music industry.
Badal developed an interest in music at a young age and started writing songs and composing music in his teenage years. He gained popularity with his debut single "Trip" in 2016, receiving millions of YouTube views and becoming a hit among Punjabi music fans.
Since then, Badal has released several hit singles, including "Vamos", released under Sony Music, "Masterpiece", and "Afsos". He has collaborated with other popular artists, including Raja Kumari, Dr Zeus, Asees Kaur, and Goldie Sohel. "Peeta Nahi" and "Afsos" became quite popular, not just because they preach higher fundamentals and virtue but because it reeks of the teen culture craving something that appeals to us in realistic ways. His newest release 'Bas Ka Nahi' follows the same success pattern as it's about revealing your true identity and living a carefree and rebellious life.
Badal is known for his unique style and ability to blend traditional Punjabi music with modern pop and rap. He is also known for his innovative music videos, often showcasing his artistic talent and creativity.
Apart from singing, Badal is also a talented music producer and has produced many of his songs. He has also produced music for other Punjabi artists and has collaborated with international music producers.
A youth icon, Badal continues to be a rising star in the Punjabi music industry, and his fan base continues to grow with each new release. Fans admire him for his talent, creativity, and dedication to his craft.
CONNECT WITH BADAL
BADSHAH
A star with a mission and an undisputed crowd favourite of the current Indian music scene. India's number one rapper-singer-music producer and performer - Badshah, is a name to reckon with. He was announced as the world's no. 1 songwriter on YouTube in 2021, and with over 7 billion+ views on YouTube, Badshah has continually introduced new-age international sounds to the Indian music scene. His larger mission is to introduce Indian sounds to global audiences and establish the genre - of Desi Pop for acts from the homeland with this vision in mind. Badshah recently released Voodoo, a collaboration between Latinx Global Superstar, Music Icon & entrepreneur J Balvin and top hit maker Tainy. Voodoo is the world's first trilingual song, an alluring mosaic of Hindi, Spanish, and English, the combined languages of more than two-thirds of the world's population. Further raising the song's profile was the remix of "Voodoo" by Tiesto, which was later followed by American youth icon & hitmaker Lil Baby joining in on this project to add his verse to this catchy song.
Badshah, named one of the most influential Indians by GQ and Forbes, has continued to create anthems that have captivated audiences in India and worldwide. He is the only Indian artist with more than 17 songs with over 200 million+ views on YouTube. He is behind massive chartbusters like Jugnu, Bachpan Ka Pyaar, Paani Paani, Genda Phool, Voodoo, Paagal, Kala Chashma, Heartless, DJ Waaley Babu, Mercy, and the game-changing album O.N.E. & EP - Retropanda and 3 A.M. Sessions. Apart from music, Badshah has also made appearances in several Indian reality TV shows, including "Dil Hai Hindustani" and "Khatron Ke Khiladi", and appeared judge on the rap reality show 'MTV Hustle 2.0',
Badshah's successful career includes collaborations with top artists from many different genres and a touring career of 8+ years with over 800+ shows, Including tours worldwide. Many of them include the biggest Bollywood music world tours. In addition to his music, he is also a full-time entrepreneur with an eye on taking his art form into various pop cultures and forming exciting brands that allow him to influence the scene beyond music, including his streetwear - BADFIT, a nightlife gastronomy lounge DRAGONFLY and many other exciting ventures in the pipeline.
CONNECT WITH BADSHAH
CHARU SEMWAL
Charu Semwal is a singer, fashion enthusiast, and social media star from the picturesque Pahadi region of India. Her unique voice has captivated audiences and garnered immense popularity on her YouTube channel. Her debut release, "Anadi Sajna", featuring Canadian sensation ishQ Bector, is a sassy and fun collaboration that became a fan favourite and garnered much attention online. Her most recent single, "I've Had Enough", is a true masterpiece and an instant hit.
Charu's journey as an artist began with her participation in Indian Idol, after which she got opportunities to work with well-known artists in the music industry. Her covers of popular songs like "Tu Dikhyandi" and "Kaun Mera" have received millions of views on YouTube. She has lent her voice to brand advertisements like Mine Diamond, featuring actress Kareena Kapoor Khan.
Charu's magnetic and electrifying live performances have drawn significant attention globally. She has shared stages with renowned singers like Sunidhi Chauhan, Mika Singh, Sukhwinder Singh, and Pritam and has performed at Asia's biggest Bollywood Music Festival, the "Bollywood Music Project". With her adventurous spirit and big self-love personality, she is a rising star to watch out for.
CONNECT WITH CHARU
DIVYA KUMAR
Divya comes from a musical family, and his interest in music began at a young age. Born in a family of musicians such as Pandit Shivram (grandfather) and Bhagwan Shivram (father), he wanted to be a drummer but eventually took an interest in singing and started his music career at nine when he became a part of Padma Shri Kalyanji-Anandji's 'Little Wonders troupe and performed worldwide. He later moved to Mumbai to pursue a career in playback singing.
Divya made his Bollywood debut as a playback singer with the song "Aafton Ke Parindey" from the film "Ishaqzaade" in 2012. He has since lent his voice to many hit songs in Bollywood, including "Jee Karda" from "Badlapur", "Chanchal Mann Ati Random" from 'Shuddh Desi Romance", "Shubhaarambh" from "Kai Po Che", "Sun Sathiya" and "Chunar" from "ABCD 2", "Maston Ka Jhund" from "Bhaag Milkha Bhaag", "Halka Halka" from "Fanney Khan", "Kamariya" from "Stree" and "Thumkeshwari" from "Bhediya".
Divya is known for his versatile voice and ability to sing in various genres, including romantic ballads, folk, and rock. He has also sung in various regional languages, including Marathi, Telugu, Tamil, and Kannada. Apart from singing for films, Divya has also released several independent singles, including "Zariya", "Sojatiya Sirdar", and "Banna". He has also performed in various concerts and events in India and abroad.
Divya continues to be a sought-after singer in the Indian music industry and is admired by fans for his talent and dedication to music.
CONNECT WITH DIVYA
GOLDIE SOHEL
Goldie Sohel is a young singer-songwriter and music composer from Guwahati, a city of culture, music, and life.
Goldie's passion for music began at a young age, watching his grandfather sing for All India Radio and his father become a singer-songwriter. This gave him a deeper understanding of music, starting his music career by performing at local gigs and events in Kolkata. He later moved to Mumbai to pursue his dream of becoming a professional singer.
His breakthrough single, 'Nai Jeena,' was released under JioSaavn's Artist Originals imprint. Since then, Goldie has worked as a playback singer for many record labels, lending his voice to hit songs like "Daayein Baayein" and "Aaj Sajeya" from "Saregama Music", "Akhiyaan Na Akhiyaan" in collaboration with Asees Kaur under "Sony Music India", and "Kisi Aur Naal" under "Universal Music India", which has received over 130 million plays across all platforms. He has also composed and sung for various web series and independent music projects. In addition to singing and composing, Goldie has also written songs for various artists in the Indian music industry.
Goldie is known for his soulful voice and ability to blend various genres of music, including Indian classical, pop, and rock. With a subtle style of music and a flavourful voice, Goldie Sohel has made a brilliant niche for himself.
CONNECT WITH GOLDIE
KAPIL SHARMA
Kapil Sharma is a famous Indian comedian, film & TV actor, television presenter, television Producer, and singer who is an extremely familiar face in the comedy landscape of India. Kapil Sharma moved to Mumbai to seek his musical career but attempted his hands-on comedy, and it worked like a charm for him. He initiated his career with a funny sitcom, Hansde Hansande Raho, broadcast on the MH-1 TV channel.
Sharma touched the hearts of Indian people with The Great Indian Laughter Challenge show. After success, he starred in a comedy circus broadcasted on Sony Television. Kapil won all seasons of this Comedy Circus show from 2010 to 2013. In 2013, Kapil Sharma decided to present his very own comedy show titled "Comedy Nights with Kapil" under his production K9 productions banner. The show was aired on Colors TV and proved to be a megahit. "Comedy Nights with Kapil" emerged as India's most popular comedy.
Through this, Kapil Sharma became very adored, and India's most exclusive comedian, making him the most demanded personality by all the broadcasters. Kapil is known for his comic timing and his ability to make people laugh with his jokes and one-liners. He won several awards for his work in comedy, including the Indian Television Academy Award for Best Actor - Comedy in 2013 and the CNN-IBN Indian of the Year award in 2013. The 2012 Forbes list mentioned Kapil Sharma in the top 100.
Apart from his work in television, Kapil has acted in several Bollywood films, including a lead role in "Kis Kisko Pyaar Karoon (2015)" and "Firangi (2017)". He has also lent his voice to the Hindi version of the Hollywood film "The Angry Birds Movie 2". He also hosted the 60th Filmfare award with Karan Johar. In January 2022, he made his OTT debut with his stand-up special, 'I'm Not Done Yet', on Netflix.
In 2022, Writer-Director-Producer Nandita Das teamed up with Kapil Sharma for his next film Zwigato. The film was premised at the Toronto International Film Festival in the 'Contemporary World Cinema section'. – Sept 2022. The film had its Asian premiere at the Busan International Film Festival at 'A Window of Asian Cinema' – in Oct 2022. In February 2023, the T-Series music company released Kapil Sharma's debut single as a singer, "Alone," featuring the renowned Indian vocalist Guru Randhawa.
One of the most well-known comedians in the nation, Kapil enjoys a huge following both in India and overseas. He continues entertaining audiences with wit and humour while sitting at the top of Indian Comedy.
CONNECT WITH KAPIL SHARMA
MOHAMMED IRFAN
Mohammed Irfan is an Indian playback singer who has lent his soulful voice to many Bollywood film songs. Mohammed's passion for singing started at a young age, and he later moved to Mumbai to pursue a career in music.
Mohammed debuted his Bollywood playback with the song "Behene De" from the film "Ravan" in 2010. His later release, "Phir Mohabbat" from "Murder 2" in 2011, was a massive hit, and Mohammed's rich and melodious voice received widespread acclaim. Since then, he has sung many hit songs in Bollywood, including "Baarish" from "Yaariyan", "Banjaara" from "Ek Villain", and "Tu Hi Tu" from "Kick".
In addition to Bollywood films, Mohammed has worked on various independent music projects and collaborated with other well-known Indian musicians. He won several awards for his work in music, including the Mirchi Music Award for Upcoming Male Vocalist of The Year in 2010. Mohammed is known for his ability to bring out the emotions in a song and his soulful rendition of romantic and emotional songs. He has a dedicated fan base in India and abroad and is considered one of the most promising singers in the Indian music industry.
CONNECT WITH IRFAN
NUCLEYA
Nucleya, The Maharaja of Bass, is a musical genius who has taken the world by storm with his unique blend of Indian beats and EDM music. With over a decade of experience in the music industry, Nucleya has become one of India's most influential and sought-after DJs and producers.
Born and raised in Ahmedabad, Nucleya's passion for music began early. He started his career as a member of the band Bandish Projekt before branching out on his own to explore the world of electronic dance music, carving out a niche for himself as a genre-defying artist. His talent and hard work have paid off, with Nucleya now boasting over 1.4 million monthly listeners on Spotify and a massive following across social media platforms.
Nucleya has released several albums and EPs, including "Bass Rani", "Tota Myna", "Raja Baja", and "Koocha Monster". He has also collaborated with well-known artists, such as Krewella, Major Lazor, Papon, Divine and Badshah. His most recent collaboration has been the EP "Baaraat" with Ritviz.
Apart from his work in music production, Nucleya is also an accomplished DJ and has performed at various music festivals and events in India and abroad. He has been the opening act for several International touring acts and bonafide bass stars like Skrillex, Major Lazer, Diplo, DJ Snake, and Flux Pavilion in India. He is known for his legendary performances for their energy and intensity.
With over 400 Million plays & streams across all his channels, Nucleya is a true genius of his craft, and his influence continues to grow. He remains a formidable force in electronic music and a symbol of India's vibrant and dynamic cultural landscape.
CONNECT WITH NUCLEYA
OSHO JAIN
Osho Jain is a singer and songwriter who is one of the most popular independent artists in the country . Of the 36 songs he has published, "Khush Toh Hai Na," "Tu Aisa Kaise Hai," "Khud Se," and "Kya Pata" are the most well-known. Osho Jain uses his melancholy melodies to heal people with lyrics that awaken senses you never knew you had. His music is transformed into medicine by his enthusiastic and insightful soul. Since the age of 12, he has studied music and written music. With his indie rock band "Aankh Micholi," he started his musical career. His social journey has been adorned by his collaborations with Dominos, UCB, Instagram, Amazon, and other companies. His most recent appearances at the MTV World Music Carnival and NH7 Weekender increased his fan base.
REKHA BHARDWAJ
Rekha Bharadwaj is an acclaimed Indian singer and music composer who has significantly impacted the Indian music industry. She was born on 23 January 1964 in Delhi, India. Her father was a poet and a teacher, greatly influencing her love for music.
Rekha Bharadwaj started her career in music in the late 1980s as a playback singer in Bollywood movies. Her breakthrough came in the early 2000s when she collaborated with filmmaker Vishal Bhardwaj and delivered some of the most memorable tracks in Hindi cinema. Some of her most famous songs include "Namak Ishq Ka" from Omkara, "Genda Phool" from Delhi 6, "Kabira" and "Ghagra" from "Yeh Jawaani Hai Deewani", "Balika Vadhu" and her most recent hit, "Aise Kyun - Ghazal Version" from the Netflix Series "Mismatched Season 2". She has also worked with other renowned music directors such as A.R. Rahman and Shankar-Ehsaan-Loy.
Apart from Bollywood, Rekha Bharadwaj has also performed actively in Sufi and Ghazal music. She has released several independent albums, including "Ishqa Ishqa", "Naman 2l", and "Kabir Chaura Sufi Chaura".
Over the years, Rekha Bharadwaj has won several awards for her exceptional work in the music industry. She has won the National Film Award for Best Female Playback Singer twice, for the songs "Badi Dheere Jali" from Ishqiya and "Tere Ishq Mein" from the film 30 Minutes. She has also won several Filmfare Awards and is recognised as one of the most versatile singers in the Indian music industry.
Rekha Bharadwaj continues to be an active performer and a leading voice in the Indian music industry, and her contributions have enriched the country's musical landscape.
CONNECT WITH REKHA
SHILLONG CHAMBER CHOIR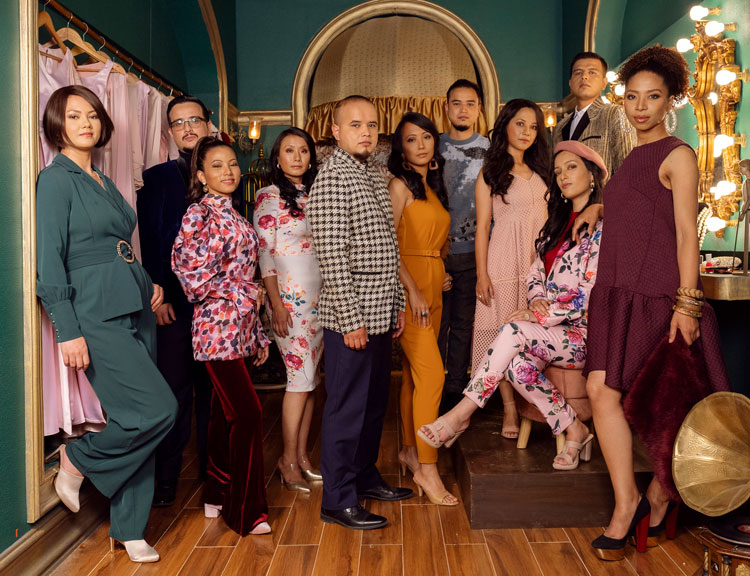 The Shillong Chamber Choir is a renowned Indian choir group known for its unique blend of Indian and Western music. The group was founded in 2001 by the legendary Padmashri, Late Neil Nongkynrih, from Shillong, Meghalaya, India. One of the most prestigious live acts in the country, they have pioneered championing Choir Music in the Indian Subcontinent.
The Shillong Chamber Choir started as a small church choir but soon became popular in Shillong and other parts of India. The group gained national and international recognition after they won the reality TV show "India's Got Talent" in 2010, which brought them into the limelight and helped them reach a wider audience.
The choir has performed in several countries worldwide, including the United States, Canada, and the United Kingdom. They ended 2010 by performing at the Rashtrapati Bhavan for the then-visiting P.O.T.U.S Mr Barack Obama and First Lady Mrs Michelle Obama. Since then, they have also performed at various prestigious events and occasions, including opening for Coldplay at the Global Citizen Concert in Mumbai, the opening ceremony of the Indian Premier League in 2012, and the Interpol General Assembly in 2022.
The Shillong Chamber Choir is known for its unique style that blends Indian and Western music, with a particular emphasis on choral music. They have performed various songs, from traditional Indian songs and hymns to Western classical music and contemporary pop songs. Their performance in various genres has captivated audiences with their innovative rendition of well-known Bollywood tunes in choir style. They have a wide range of music in their repertoire, including sacred music, gospel, jazz standards, old-school rock 'n roll, western pop, retro, modern Hindi film music, and a few original works.
The group has released several songs, including "When your heart cries out", "When I think of you", and their Christmas album, "Come home Christmas", which have been well-received by music lovers and critics alike. The Shillong Chamber Choir continues to perform and make music and is considered one of India's most unique and innovative music groups.
CONNECT WITH SHILLONG CHAMBER CHOIR
SKIPSTER
Skipster is an eminent turntablist, DJ, and sound designer, celebrated as a true pioneer of the decks. His remarkable talent and distinctive style set him apart in the world of music. With an unparalleled skill set, Skipster mesmerises audiences with his unique trickery on the turntables. A true virtuoso, Skipster seamlessly blends genres such as hip-hop, R&B, trap, and more by infusing his sets with an innovative scratching technique that leaves crowds in awe. His mastery of the craft has earned him multiple prestigious awards, including the IDA World Championship, the DMC National Champion title, and the Red Bull Thre3style National Champion accolade. Beyond his DJ prowess, Skipster is a versatile open-format music producer and DJ known for effortlessly bridging the gap between diverse styles of music. 'Killa Kali Reborn,' 'Khatam,' and 'Wonder Woman' are among his top tracks. With numerous awards and a reputation for turning any event into a wild dance party, he is undeniably one of the most influential and respected figures in the world of DJing.
STOKED
Purveyor of infectious energy- "Stoked" One of Asia's most promising techno exports, STOKED, is earning serious credibility as a pioneer of the ''Asian Techno Sound''. Having shared the decks with Charlotte de Witte, Lilly Palmer, Art-Bat, Enrico Sangiliano, Reinnier Zonnneweld, and his B2B sets with Rafael Cerato, Balthazar & Jackrock, Pavel Petrov, The Yellowheads, Loco & Jam, Metodi Hristov, and Ramon Tapia, he cements his brand of excellence as a curator of powerful, elevating music. Following each chart-topping release, STOKED has continued his ascension as a connoisseur of the Asian underground subculture. His success on the Beatport charts is only further consolidated by the outpour of support from Umek, Spartaque, Balthazar & Jackrock, The Yellow Heads, Loco & Jam, Markus Schulz, Ramon Tapia, Cristian Varela, Ramiro Lopez, John 00 Fleming, Drunken Kong, and Luigi Madonna, to name a few. The novelty and freshness of his sound, his impressive track selection, and his collaborations with industry heavyweights are testimony to his meteoric rise up the ranks in the years to come. He has toured countries around the world, including India, Thailand, Germany, the Netherlands, Croatia, Sri Lanka, Dubai, Bugaria, Singapore, Thailand, and Sri Lanka.
SUNIDHI CHAUHAN
A Musical Phenomenon, the diva of Bollywood, Sunidhi Chauhan, is an ICON in the Film and Independent music Industry with fans worldwide. Her powerful and expressive vocals have set an unprecedented benchmark in the Bollywood industry, capturing her fans for over 20 years.
Unparalleled in her versatility across genres and languages, the multi-award-winning artiste has consistently delivered hits that have become a part of everyone's lives over the years. From winning the first televised singing reality show in India, Meri Awaaz Suno, in 1996 as a teenager to making the world dance to 'Sami Sami' from the movie 'Pushpa', which crossed over 200 Million views in just two months of its release, her impact on the Indian Pop Culture is monumental and shows no signs of stopping.
Apart from singing, Sunidhi has also appeared as a judge on various Indian singing reality shows such as "Indian Idol" and "The Voice India." She has also performed at numerous concerts and events around the world.
With immensely high energy levels showcased in her performances, Sunidhi is widely recognised as one of the biggest live performers in India. Her powerhouse concerts have rocked stadiums and arenas with unforgettable hits such as Crazy Kiya Re, Sajna Ji Vari Vari, Sheila Ki Jawaani & Desi Girl. Her versatility in songs such as Kyun, Neeyat, and Mere sang toh chal has serenaded fans. With 1500+ songs in her repertoire and 1000+ successful live shows, the songstress continues to be a major force in the Industry.
CONNECT WITH SUNIDHI
SUNNY M.R.
Impressing the Music Industry for over 20 years now, Sunny M.R. is a virtuoso with the Midas Touch. Starting as a sound engineer in the south Indian Film Industry in 2001 and venturing into Composing and Music Production, he has become a master of all. His contributions have been significant in shaping the contemporary sound of Bollywood music.
A renowned composer in the Telugu Industry with over 7 films, he shot to fame with Swamy Ra Ra in 2015. Having worked in over 100+ films, Sunny has received several awards ranging from music production to mixing engineering. He has extensively collaborated with more than 350 music albums to date. Some of his best work includes the movies "Yeh Jawaani Hai Deewani", "Om Shanti Om", "Brahmastra", "The Sky is Pink", "83", "Dangal" and "Ae Dil Hai Mushkil", with his most recent work o creating the Background score for "An Action Hero". He has also composed music for the TV Series "Dr Arora".
Having toured globally with Arijit Singh for 'Arijit Singh Live' as a Show Director, Music Producer, and FOH engineer, Sunny is a phenomenon with live performances. Besides working with Pritam and Arijit, he has collaborated with artists such as Amit Trivedi, Diljit Dosanjh, Akhil Sachdeva, Nakash Aziz, Shalmali, and Nikita Gandhi.
A vivid believer in using exceptional technology and sound in his compositions only adds to his vocalist and performer capabilities, helping him stay on the top of the charts. His solo project, Unsung Verses, saw him write, produce and perform songs such as Prarambh, Kahaniyan, Chaubaare, Lifafe, Paheli, Panchhi, Kaafila, Barkha, and Azaad, all of which were warmly embraced by his fans.
At the helm of his career, Sunny's humble approach and creative techniques have positioned him amongst the elite in the industry, and it's only getting better.
CONNECT WITH SUNNY
TECHPANDA X KENZANI
The contemporary producer duo from New Delhi, Techpanda x Kenzani, specialises in fusing expressive electronica with forgotten folk melodies. With the addition of the viral smash "Dilbar" to their catalogue of hit songs, including "Khoyo," "Indian Monsoon," "Doya," and "Metanoia," Tech Panda x Kenzani have quickly established themselves as India's top electronica stripes. Rupinder Nanda and Kedar Santwani, alias Tech Panda and Kenzani, respectively, have released more than 80 tunes together over the past two years, garnering praise and accolades. Their joint project "Dilbar" with Rusha and Blizza has greatly sped up their success. The song streams has crossed 13.5 million times on Spotify, 3.7 million on YouTube, and 500K on Apple Music. There are more than 400K clips produced with the music on Instagram. The song also topped the charts across platforms and nations, including Canada, the UK, Dubai, and Pakistan, and remained at the top for more than three months on the Apple India Music Electronic Charts. Tech Panda x Kenzani released 16 singles in 2022, demonstrating their commitment to spreading the word about Indian electronic music. Their recent collaboration with Badal for the rendition of the song 'Sunflower' for the Spider verse movie has garnered a lot of attention, which is just a beginning to defy musical conventions.
VARUN JAIN
Varun Jain, one of the most talented young artists from Aligarh, Uttar Pradesh, who has amassed more than 150 M views with his recent song, 'Tere Vaaste', from the movie 'Zara Hatke Zara Bachke began his career with very smooth renditions of iconic Bollywood songs. He was also featured on Brut India for his cover 'Khudaya Khair'. He has also gone on to collaborate with major labels on commercial Hindi pop songs alongside seasoned veterans like Rekha Bhardwaj on 'Vedha Sajjeya'. Varun has progressively made a name for himself in the industry with the Bollywood film Hum Do Hamare Do and popular web series like TVF's Cubicles season 2. Varun adds a contemporary touch to the music and has sung "Darmiyaan and composed 'Khaali Panne' with TM music which has garnered buzzing appreciation.
VISHAL BHARDWAJ
Vishal Bharadwaj is a renowned Indian filmmaker, screenwriter, music composer, playback singer, and producer.
Bharadwaj started his career as a music composer for films and later moved on to writing screenplays and directing films. He is known for his unique and unconventional storytelling style and is considered one of the most talented filmmakers in India.
Some of his most notable films as a director, adapted from Shakespeare's plays – include "Maqbool" (2003), based on Macbeth, "Omkara" (2006), based on Othello, and "Haider" (2014), based on Hamlet. His other notable works include "Rangoon" (2017), "Kaminey" (2009), "7 Khoon Maaf" (2011), "Drishyam" (2015), and "Darlings" (2022). His films are known for their strong storytelling, intense characters, and memorable music. He has won several awards for his work, including multiple National Film Awards and Filmfare Awards.
In addition to his work as a filmmaker, Bharadwaj is also a successful music composer and has composed music for several films, including his own. He is known for his unique and experimental approach to music, blending Indian and Western music styles to create innovative and memorable soundtracks.
Bharadwaj is also a noted writer, having written screenplays for many of his films, as well as for other directors. Bharadwaj continues to work in the Indian film industry and is considered one of the country's most influential and innovative filmmakers. His films and music have left a lasting impact on Indian cinema and continue to be appreciated by audiences and critics alike.
CONNECT WITH VISHAL